Science and Engineering buildings facing Astronomy Park @ James Madison University.
The D2 parking lot is behind the buildings.
The in-person meeting venue will be at James Madison University in Harrisonburg, VA.
We will meet in King Hall Room 0259.
To reach the meeting site by car, please drive to the JMU D2 Parking Lot (Google Map).
See below for instructions on how to get from the D2 parking lot to the meeting room.

If you are arriving on Friday and staying at the Hotel Madison, please walk or drive to the meeting site from the hotel since the Inner Campus Shuttle bus does not begin service on Saturdays until 9:00AM.

---
We will meet in King Hall Room 0259 :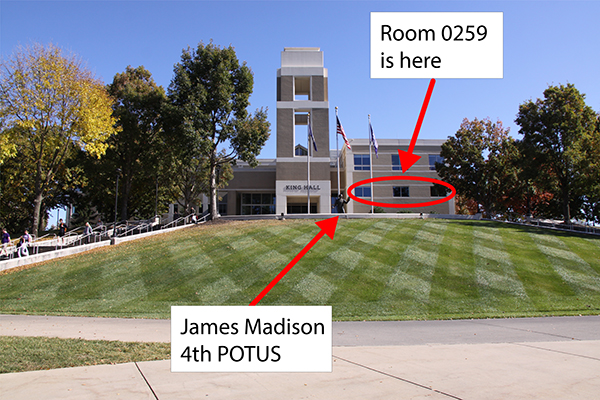 King Hall
Room 0259
---
How to get to the Meeting Room from the Parking Lot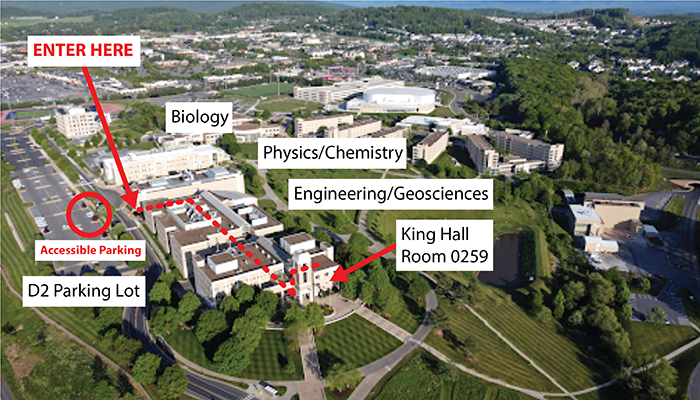 From the D2 parking lot, enter through the Physics/Chemistry Building :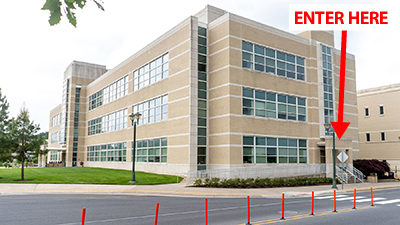 Physics/Chemistry Building seen from the D2 parking lot.
Go all the way to the first floor of King Hall and then take stairs/elevator to 2nd floor.
More detailed instructions will be added here later.